This technology allows intelligent management of the electrical energy budget of an electric vehicle.
4th September 2020 – The electric vehicle start-up from Munich, Sono Motors, has been granted a European patent for its bidirectional charging system. The basis for this technology is a newly developed charger, which can be used to charge, store, and release electricity. To draw electricity, the car is connected directly to an external energy consumer, an example would be another electric vehicle. For the first time, the charging or discharging process can be controlled via a control unit, such as an app or the vehicle's infotainment system. With the development of this technology, Sono Motors offers a more efficient solution for electric vehicles that draw all or part of their energy from integrated solar cells. If solar vehicles generate more power during the day than can be absorbed by the vehicle's battery, the bidirectional charging system makes it possible to quickly and easily make unused solar power available to other devices or vehicles.
The innovative system will be used for the first time in the company's own Solar Electric Vehicle (SEV) the Sion. In combination with the solar system integrated into the Sion's vehicle body, other electronic devices and vehicles can be supplied with up to 11 kW of emission-free solar power completely autonomously. In addition to a CCS module for charging the vehicle, a standard household power outlet plug and a high-performance type 2 plug are integrated into the vehicle's hood to draw power.
The user of the vehicle can then control the power withdrawal via a specially developed app or alternatively, via the vehicle's infotainment system. In doing so, they can choose if and how much power is to be made available to external electrical consumers and how much power is to remain in the vehicle.
Laurin Hahn, Co-Founder and CEO of Sono Motors: "Patenting our bidirectional charging system is another important milestone on our way to becoming a mobility service provider. The technology allows us to enable intelligent power sharing, i.e. the sharing of stored energy via an app. The Sion can thus not only be charged via the power grid, but becomes part of the charging infrastructure itself."
---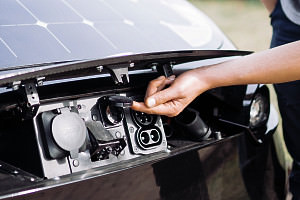 For press inquiries please contact Christian Scheckenbach | phone: +49 176 18050132 | email:
Sono Motors is on a mission to enable a revolutionary mobility system, where every electric vehicle is solar, shared, and independent from fossil-fuels. Today, an experienced specialist team is developing a forward-looking electric car that is suitable for daily use, the Sion. Both the Sion's integrated solar technology and innovative mobility services will enable users to access clean mobility, harness solar energy and reduce CO2 impacts. 
Sono Motors was founded in 2016 and has rapidly grown to more than 200 employees today. The team combines a range of burgeoning global talent with industry veterans, including former employees from BMW, Nissan, Chrysler, Daimler, Audi, Mozilla, Sixt, FlixBus and mytaxi. Since its foundation, the company has raised approximately €100 million through reservations and funding. The company released its first generation Sion prototype in 2017 and has amassed 14,000 reservations with advance payments. In 2018, Sono Motors was recognized as a Solar Impulse Efficient Solution by the Solar Impulse Foundation. In January of 2020, Sono Motors successfully closed one of the largest community crowdfunding campaigns in Europe.
 
Sono Motors' Sion intends to blend disruptive technology with affordability to enable individual contribution to global sustainability. The Sono solar technology replaces traditional paint with proprietary integrated solar panels that can form to various applications. Additionally, the Sion's solar panels can add 112 km or 70 mi on average (up to 245 km or 152 mi) of additional driving range per week to the car's battery. The Sion is expected to have the lowest TCO (total cost of ownership) in its category at the start of production, which is scheduled for the first half of 2023.