Automotive expert Thomas Hausch appointed as COO, marketing expert Isa Krupka appointed as CCO
5th July 2018 – The mobility provider Sono Motors has appointed Thomas Hausch and Isa Krupka as Chief Operations Officer (COO) and Chief Communications Officer (CCO) with immediate effect. This expands the current management board from four to six positions.
In the newly created role of COO, Thomas Hausch (52) will take responsibility for the development and implementation of business strategies and production decisions. Furthermore, he will be responsible for the management of strategic partners and suppliers. He brings more than 25 years of experience from the automotive industry in the areas of development, production, and sales to his new role as COO. After holding senior management positions at Daimler and Chrysler, Thomas Hausch moved to the California-based Start-Up Coda Automotive, a company specializing in electric mobility. For the last five years, he was CEO of Nissan Center Europe, during which time he continuously pushed for advancing the topic of electromobility.
In the newly created position of CCO, Isa Krupka (56) will lead the corporate communications department, where she will be responsible for the strategic orientation of communications and the company's reputation management. She has many years of experience in the areas of communication, strategic marketing and brand management, including more than 15 years in the international financial sector. In various management positions at Dow Jones Indexes and STOXX Ltd., she led the European and worldwide marketing. Most recently, she worked for the internationally active American asset manager VanEck, where she was responsible for all marketing and press activities outside of the United States.
"With our new colleagues, proven experts in their respective branches, we will take Sono Motors to the next stage of development and strategically align ourselves with the planned growth course of the coming years. With the deep expertise and broad experience of our management team, which is now complete, we are well-prepared to meet the challenges on the way to becoming a global mobility provider. With over 6,000 vehicle reservations and in preparation for series production and market entry at the end of 2019, we are increasingly focusing on topics related to production decisions, brand development, and communication. We are very pleased to have Isa and Thomas on board for this crucial period and are looking forward to leading Sono Motors into the future together with them," says Laurin Hahn, founder, and CEO, Sono Motors.
The Management Board will hereafter consist of the founders and CEOs Laurin Hahn and Jona Christians as well as of Roberto Diesel (CTO), Thomas Hausch (COO), Isa Krupka (CCO) and Martin Sabbione (CFO).
---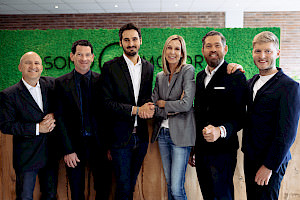 For press inquiries please contact Christian Scheckenbach | phone: +49 176 18050132 | email:
Sono Motors is on a mission to enable a revolutionary mobility system, where every electric vehicle is solar, shared, and independent from fossil-fuels. Today, an experienced specialist team is developing a forward-looking electric car that is suitable for daily use, the Sion. Both the Sion's integrated solar technology and innovative mobility services will enable users to access clean mobility, harness solar energy and reduce CO2 impacts. 
Sono Motors was founded in 2016 and has rapidly grown to more than 200 employees today. The team combines a range of burgeoning global talent with industry veterans, including former employees from BMW, Nissan, Chrysler, Daimler, Audi, Mozilla, Sixt, FlixBus and mytaxi. Since its foundation, the company has raised approximately €100 million through reservations and funding. The company released its first generation Sion prototype in 2017 and has amassed 14,000 reservations with advance payments. In 2018, Sono Motors was recognized as a Solar Impulse Efficient Solution by the Solar Impulse Foundation. In January of 2020, Sono Motors successfully closed one of the largest community crowdfunding campaigns in Europe.
 
Sono Motors' Sion intends to blend disruptive technology with affordability to enable individual contribution to global sustainability. The Sono solar technology replaces traditional paint with proprietary integrated solar panels that can form to various applications. Additionally, the Sion's solar panels can add 112 km or 70 mi on average (up to 245 km or 152 mi) of additional driving range per week to the car's battery. The Sion is expected to have the lowest TCO (total cost of ownership) in its category at the start of production, which is scheduled for the first half of 2023.