Long-Term Partnership for Production of the Sion's Electric Drive Unit
22nd November 2018 – The German mobility provider Sono Motors announced today that it was entering into a cooperation with Continental, the world's second largest automotive supplier. The long-standing German company's Powertrain division will build the electric drive unit (EDU) for the Sion, the first series produced e-vehicle with integrated solar cells. This is a long-term partnership between Sono Motors and Continental, extending over the vehicle's full life cycle.
In addition to the engine, the Sion's drive unit consists of the power electronics and the transmission. Their integration into a single system unit reduces the size and weight of the drive system, thereby boosting the vehicle's performance. The drive system, which has already been validated, can be incorporated into the Sion without the need for any additional significant development work and is therefore in keeping with Sono Motors' innovative carry-over parts strategy.
"Our decision to work with Continental marks the conclusion of another important stage in the preparation of the Sion's series production. With Continental, we have found an experienced system partner with high automotive standards who shares our enthusiasm for innovative vehicle development solutions and whose name stands for quality and the height of technology around the world," says Roberto Diesel, CTO of Sono Motors.
The Sion has a battery capacity of 35 kWh. The optimized engine reduces the vehicle's consumption. The hitherto communicated range of 255 kilometers according to WLTP standard has now also been confirmed in simulations in accordance with the new Worldwide Harmonized Light Vehicles Test Procedure (WLTP) standard as being of 255 kilometers. The choice of a front-wheel drive also further increases drive and recuperation efficiency.
The announcements already made by Sono Motors this year include its partnership with ElringKlinger in the area of battery development and production. Additionally, Sono Motors is developing an innovative and custom LED headlamp concept for the Sion together with Automotive Solutions Germany (ASG), a specialist in the development and mass production of automotive lighting systems. Sono Motors has so far received about 8,800 pre-orders for the vehicle.
---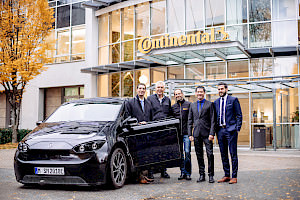 For press inquiries please contact Christian Scheckenbach | phone: +49 176 18050132 | email:
Sono Motors is on a mission to enable a revolutionary mobility system, where every electric vehicle is solar, shared, and independent from fossil-fuels. Today, an experienced specialist team is developing a forward-looking electric car that is suitable for daily use, the Sion. Both the Sion's integrated solar technology and innovative mobility services will enable users to access clean mobility, harness solar energy and reduce CO2 impacts. 
Sono Motors was founded in 2016 and has rapidly grown to more than 200 employees today. The team combines a range of burgeoning global talent with industry veterans, including former employees from BMW, Nissan, Chrysler, Daimler, Audi, Mozilla, Sixt, FlixBus and mytaxi. Since its foundation, the company has raised approximately €100 million through reservations and funding. The company released its first generation Sion prototype in 2017 and has amassed 14,000 reservations with advance payments. In 2018, Sono Motors was recognized as a Solar Impulse Efficient Solution by the Solar Impulse Foundation. In January of 2020, Sono Motors successfully closed one of the largest community crowdfunding campaigns in Europe.
 
Sono Motors' Sion intends to blend disruptive technology with affordability to enable individual contribution to global sustainability. The Sono solar technology replaces traditional paint with proprietary integrated solar panels that can form to various applications. Additionally, the Sion's solar panels can add 112 km or 70 mi on average (up to 245 km or 152 mi) of additional driving range per week to the car's battery. The Sion is expected to have the lowest TCO (total cost of ownership) in its category at the start of production, which is scheduled for the first half of 2023.