The Munich-based mobility company is awarding a major contract worth several hundred million euros to the German automotive supplier ElringKlinger for the development and production of a battery for its solar vehicle "Sion".
9th May 2018 – Sono Motors, a Munich-based automotive company, announces its partnership with the German automotive supplier ElringKlinger for the development and production of battery systems. The total volume of the contract amounts to several hundred million euros over a period of about eight years.
Climate protection and working conditions played a decisive role for the company in deciding in favor of a domestic location for the production of battery systems. Emitting as little carbon dioxide as possible during the production process, Sono Motors will furthermore offset all unavoidable greenhouse gas emissions by supporting certified climate protection projects.
"The announcement of the partnership with ElringKlinger marks an important milestone on the road to series production," says Laurin Hahn, co-founder, and CEO of Sono Motors.
"The battery market currently confronts the entire automotive industry with major challenges. The nomination of the battery supplier is an important signal effect for our community and the numerous people who have already reserved a Sion," adds Hahn.
In selecting the partner, particular importance was attached to issues such as social standards and sustainability. Domestic production in Germany and the partner ElringKlinger made it possible to take these factors into account.
"We were very impressed by ElringKlinger's know-how and professionalism. A fully automated production line should also ensure cost-efficient production and shows that production in Germany can also make economic sense," explains Roberto Diesel, CTO of Sono Motors.
Sono Motors presented the innovative and family-friendly solar car Sion to the world last summer. The Sion is a self-charging electric car that feeds solar energy into the battery for up to 30 additional kilometers every day through the solar cells integrated into the bodywork.
Thanks to a battery range of 255 kilometers according to WLTP standard suitable for everyday use, a purchase price (without battery) of 16,000 euros and integrated sharing functions, the vehicle will appeal especially to families and city commuters.
The battery is to be offered on a rental basis or for a one-time purchase. The vehicle can be charged either at a conventional power outlet or a quick charging station within 30 minutes. To date, Sono Motors has almost 4,000 paid vehicle reservations.
As the company recently announced, there will be a Germany-wide test drive tour starting in mid-May. The family-friendly compact van will be available for test drives in 17 cities. One can register on the Sono Motors website.
---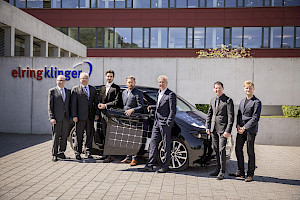 For press inquiries please contact Christian Scheckenbach | phone: +49 176 18050132 | email:
Sono Motors is on a mission to enable a revolutionary mobility system, where every electric vehicle is solar, shared, and independent from fossil-fuels. Today, an experienced specialist team is developing a forward-looking electric car that is suitable for daily use, the Sion. Both the Sion's integrated solar technology and innovative mobility services will enable users to access clean mobility, harness solar energy and reduce CO2 impacts. 
Sono Motors was founded in 2016 and has rapidly grown to more than 200 employees today. The team combines a range of burgeoning global talent with industry veterans, including former employees from BMW, Nissan, Chrysler, Daimler, Audi, Mozilla, Sixt, FlixBus and mytaxi. Since its foundation, the company has raised approximately €100 million through reservations and funding. The company released its first generation Sion prototype in 2017 and has amassed 14,000 reservations with advance payments. In 2018, Sono Motors was recognized as a Solar Impulse Efficient Solution by the Solar Impulse Foundation. In January of 2020, Sono Motors successfully closed one of the largest community crowdfunding campaigns in Europe.
 
Sono Motors' Sion intends to blend disruptive technology with affordability to enable individual contribution to global sustainability. The Sono solar technology replaces traditional paint with proprietary integrated solar panels that can form to various applications. Additionally, the Sion's solar panels can add 112 km or 70 mi on average (up to 245 km or 152 mi) of additional driving range per week to the car's battery. The Sion is expected to have the lowest TCO (total cost of ownership) in its category at the start of production, which is scheduled for the first half of 2023.