Campaign Generates More Than 5 Million Euros in the First Week
18th October 2018 – A year after the company's successful first crowdinvesting campaign, the Munich-based mobility provider Sono Motors today announced the start of a second round of financing. The purpose of the campaign is to generate the capital needed for the completion of the series development and manufacturing of the Sion, the first series-produced electric vehicle with solar integration, which is scheduled to go into production in the fourth quarter of 2019.
In the one-week subscription period ahead of today's official campaign launch, which was reserved exclusively for existing investors and backers, there were subscriptions amounting to no less than 5 million euros via crowdinvesting and other channels.
The concept of the current financing round affords retail and institutional investors access to the campaign via various channels and forms of participation. Using a variety of crowdinvesting platforms, investors can participate in the success of the company via either equity or debt capital. Another investment option is via a special fund from the asset managers CAV Partners, who specialize in renewable energies, and the environmental financial services provider Grüne Sachwerte.
"It is our goal to establish a sustainable company. We believe that, together with our community, we can bring about change. This was confirmed already back in 2016 with our first crowdfunding campaign. We therefore want to continue to give the retail investors and early backers, whose financial involvement and trust played a major part in keeping us going over the past two years, the opportunity to benefit from our company's growth by means of crowdinvesting," says Laurin Hahn, CEO and co-founder of Sono Motors.
Another major focus is getting institutional investors on board. Therefore, Sono Motors is engaging in talks with them in the course of the current financing round.
"We have reached some important milestones last year and we succeeded in doubling our enterprise value in next to no time. The funds generated in the current financing round will go toward the finalization of series development and the conclusion of the Sion's validation phase, and will also be used for the crucial next industrialization steps," adds Martin Sabbione, CFO of Sono Motors.
Sono Motors currently has more than 8,000 fee-based vehicle reservations, which would equate to an order volume of around 140 million euros. The company has therefore comfortably exceeded its original target of 5,000 reservations.
In addition to the internal teams of experts being expanded in recent months, the management team was expanded in order to advance the company's development. Thomas Hausch (Nissan, Daimler) assumed the position of COO, while Isa Krupka (Van Eck, STOXX, Dow Jones) was appointed to the management as CCO.
---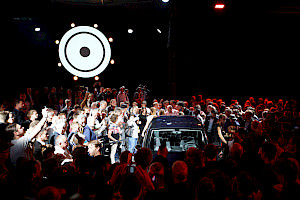 For press inquiries please contact Christian Scheckenbach | phone: +49 176 18050132 | email:
Sono Motors is on a mission to enable a revolutionary mobility system, where every electric vehicle is solar, shared, and independent from fossil-fuels. Today, an experienced specialist team is developing a forward-looking electric car that is suitable for daily use, the Sion. Both the Sion's integrated solar technology and innovative mobility services will enable users to access clean mobility, harness solar energy and reduce CO2 impacts. 
Sono Motors was founded in 2016 and has rapidly grown to more than 200 employees today. The team combines a range of burgeoning global talent with industry veterans, including former employees from BMW, Nissan, Chrysler, Daimler, Audi, Mozilla, Sixt, FlixBus and mytaxi. Since its foundation, the company has raised approximately €100 million through reservations and funding. The company released its first generation Sion prototype in 2017 and has amassed 14,000 reservations with advance payments. In 2018, Sono Motors was recognized as a Solar Impulse Efficient Solution by the Solar Impulse Foundation. In January of 2020, Sono Motors successfully closed one of the largest community crowdfunding campaigns in Europe.
 
Sono Motors' Sion intends to blend disruptive technology with affordability to enable individual contribution to global sustainability. The Sono solar technology replaces traditional paint with proprietary integrated solar panels that can form to various applications. Additionally, the Sion's solar panels can add 112 km or 70 mi on average (up to 245 km or 152 mi) of additional driving range per week to the car's battery. The Sion is expected to have the lowest TCO (total cost of ownership) in its category at the start of production, which is scheduled for the first half of 2023.