Due to high demand: 17 test drive tour stops in Germany with the solar car Sion.
15th May 2018 – Sono Motors, a young automobile company from Munich, will be taking its innovative and family-friendly solar car Sion on a Germany-wide test drive tour, starting May 15th. The compact van will be available for test drives in 17 cities.
The Sion is a self-charging electric car with integrated solar cells in the body, which can feed up to 30 kilometers of solar energy into the battery every day. Thanks to a battery range of 255 kilometers according to WLTP standard, a purchase price of 16,000 euros (without battery) and integrated sharing services, the vehicle will appeal particularly to families and city commuters. According to the company, more than 4,000 cars have already been reserved.
"A week before the start of the tour, more than two and a half thousand people had already registered for a test drive," explains Anne-Sophie Scharrer, Tour Manager at Sono Motors. "After our tour across Italy, Austria, and Switzerland, the demand for further test drives in Germany has increased tremendously.
"This shows us how immensely the general interest in climate-friendly mobility is growing in this country," says Navina Pernsteiner, co-founder of the young company from Munich. "We want to make electromobility suitable for everyday use, while promoting resource-conservation and climate-friendliness. It is time to finally make a difference in this area. In our view, price, range and everyday practicality are the most important criteria for this."
Whether the Sion meets these criteria sufficiently or not can be found out from May 15th in Friedrichshafen on Lake Constance. Afterwards, Sono Motors plans on making 16 additional stops all over Germany. You can register for a test drive here.
All dates at a glance:
Friedrichshafen (15 - 16.05.2018), Freiburg (17 - 18.05.2018), Ludwigsburg (19 - 20.05.2018), Mannheim (21 - 22.05.2018), Limburg an der Lahn (23 - 24.05.2018), Cologne (25 - 26.05.2018), Gelsenkirchen (27 - 28.05.2018), Oldenburg (29 - 30.05.2018), Enge-Sande (02. - 03.06.2018), Lübeck (04. - 05.06.2018), Potsdam (06. - 07.06.2018), Leipzig (08. - 09.06.2018), Erfurt (10. - 11.06.2018), Würzburg (12. - 13.06.2018), Ulm (14. - 15.06.2018), Kempten (16. - 17.06.2018), Regensburg (18. - 19.06.2018)
---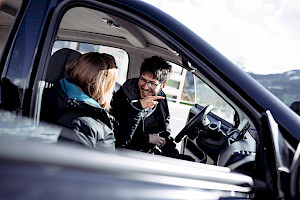 For press inquiries please contact Christian Scheckenbach | phone: +49 176 18050132 | email:
Sono Motors is on a mission to enable a revolutionary mobility system, where every electric vehicle is solar, shared, and independent from fossil-fuels. Today, an experienced specialist team is developing a forward-looking electric car that is suitable for daily use, the Sion. Both the Sion's integrated solar technology and innovative mobility services will enable users to access clean mobility, harness solar energy and reduce CO2 impacts. 
Sono Motors was founded in 2016 and has rapidly grown to more than 200 employees today. The team combines a range of burgeoning global talent with industry veterans, including former employees from BMW, Nissan, Chrysler, Daimler, Audi, Mozilla, Sixt, FlixBus and mytaxi. Since its foundation, the company has raised approximately €100 million through reservations and funding. The company released its first generation Sion prototype in 2017 and has amassed 14,000 reservations with advance payments. In 2018, Sono Motors was recognized as a Solar Impulse Efficient Solution by the Solar Impulse Foundation. In January of 2020, Sono Motors successfully closed one of the largest community crowdfunding campaigns in Europe.
 
Sono Motors' Sion intends to blend disruptive technology with affordability to enable individual contribution to global sustainability. The Sono solar technology replaces traditional paint with proprietary integrated solar panels that can form to various applications. Additionally, the Sion's solar panels can add 112 km or 70 mi on average (up to 245 km or 152 mi) of additional driving range per week to the car's battery. The Sion is expected to have the lowest TCO (total cost of ownership) in its category at the start of production, which is scheduled for the first half of 2023.